Senior Threat Intelligence Analyst
Tacoma, WA
Areas of Interest: All Source Intelligence, Threat Analysis
report a problem
Overview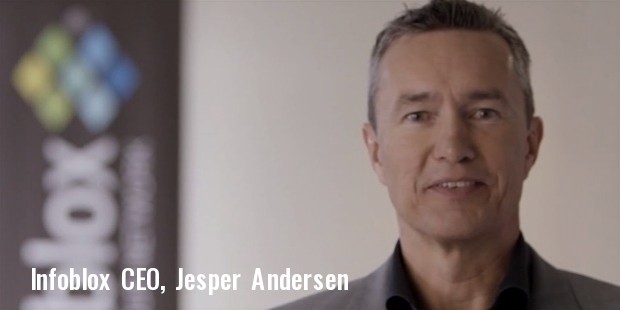 We believe that a
fun, caring, collaborative, and learning work environment
will stimulate creativity and innovation that results in customer satisfaction and business success.
Jesper Andersen
PRESIDENT AND CHIEF EXECUTIVE OFFICER
This is a rare opportunity for a an experienced and skilled intelligence analyst to join the DDI market leader. This position is a hands on opportunity where you can immediately contribute to the success of the company, advance your career, gain new knowledge, and hone current skillsets. The Cyber Intelligence Unit in the office of the CTO conducts extensive research, investigations, and uses Pivot-Farm-Mine to proactively expand threat indicators, and develop actionable information in the form of IOCs, reports, lists, rules, indicators and warnings.
Joining the Infoblox Cyber Intelligence Unit means you will be part of an environment that encourages teamwork. You will be partnering with other teams in the Office of the CTO, Product Management and Engineering where you will work on both greenfield projects as well as existing products and services. Infoblox leadership promotes a balance between collaboration and autonomy where you can utilize your expertise as well as develop new skills.
As the ideal candidate, you are an experienced intelligence analyst and leader. You are very familiar with intelligence processes, requirements, and collection. You have strong logic, correlation, analytical, communication skills and the ability to develop a deep understanding of attacker methods and objectives. Preferred experience in SOC, CSIRT, CERT, etc. Prior experience in military intelligence is a plus.
Responsibilities:
Train and mentor junior team members on intelligence analysis

Research threat actors and maintain knowledge of threat landscape

Develop and communicate an understanding of emerging threats, tactics, techniques, and procedures used by advanced adversaries

Develop and use predictive analytics to counter threats by tracking attack campaigns

Research newly software vulnerabilities and develop exploits and detection algorithms
Requirements:
Must be a US Citizen

Must have demonstrable experience leading intelligence analysis

Management experience

Knowledge of information security threat types, their composition, and IOCs

Knowledge of attacker tactics, techniques, and procedures (TTPs)

Commitment to self-study, and maintaining proficiency in the technical cyber security
Preferred Experience:
Experience analyzing common types of attacks

Log analysis and experience reviewing security events

Knowledge of intrusion analysis, network and host forensics

3-5 years of experience with Python and other scripting languages

API usage and design experience

Demonstrated understanding of TCP/IP, common networking ports, protocols, and traffic flow

Linux command line experience

Experience with virtualization and Linux containers
Education:
BS in Computer Science or related field, or equivalent work experience required
It's an exciting time to be at Infoblox. We are the market leader in technology for network control. Our success depends on bright, energetic, talented people who share a passion for excellence in building the next generation of networking technologies—and having fun along the way. Infoblox offers a fast-paced, action-oriented environment. We promote a culture that embraces innovation, change, teamwork, and strong partnerships. Join the winning Infoblox team—our future looks bright, and so will yours.


Share this job:
Infoblox
Infoblox helps customers control their networks. Our solutions help businesses automate complex network control functions to reduce costs, increase security and maximize uptime.
Our technology enables automatic discovery, real-time configuration and change management and compliance for network infrastructure, as well as critical network control functions such as DNS, DHCP and IP Address Management (IPAM) for applications and endpoint devices. Leveraging our patented Grid™ technology, Infoblox delivers higher availability, and an authoritative network database for real-time and historical reporting.
As the market leader in Automated Network Control, Infoblox provides services and solutions to leading industry enterprises and service providers in more than 25 countries. Our integrated hardware and software solutions help businesses control data flow on their networks by making them more automated, more available and more secure; giving customers the ability to see what's connected to the network, configure and change what's there, and prevent malware from spreading across the enterprise.
Specialties
Network Infrastructure Control, DNS, Network Infrastructure Automation, DHCP, Network Configuration Management, IP Address Management, Network Change Management, Elastic Networks, and Network Optimization for Virtualization
Company Industry: Computer Networking
Company Type: Public Company
Company Size: 501-1000
2 other jobs with this company: