Technical Security Architect
Deerfield, IL
report a problem
Overview
More than 30,000 Takeda employees working in more than 70 countries are committed to improving quality of life for patients, who remain at the center of everything we do. As a global, research and development-driven pharmaceutical company, Takeda Pharmaceutical Company Limited conducts R&D both internally and with external partners to translate science into life-changing medicines. Takeda focuses on the core therapeutic areas of oncology, gastroenterology and central nervous system, plus vaccines. Novel products, especially in oncology and gastroenterology, as well as our presence in Emerging Markets, fuel our growth.
While Takeda is enjoying tremendous growth as an emerging global leader in the pharmaceutical industry, we remain ever mindful of our commitment to serve people worldwide by striving toward better health through leading innovation in medicine. In short, we are a passionate team doing important work that impacts patients' lives. If you are driven to create better health and a brighter future, join us!
OBJECTIVE
Serves as domain expert and principal designer for major infrastructure within area of specialization.

Develops the strategic vision with IT Management for area of responsibility.

Analyses the current IT environment to detect critical deficiencies and researches/evaluates alternative solutions while weighing costs, efficiencies, and industry best practices to provide recommended solution within area of responsibility.
Develops the strategic vision with IT management for the security infrastructure within area of responsibility by translating the needs of the business and security considerations into IT solutions.

Collaborates with Architects and Engineers to ensure that solutions are both strategically and technologically aligned.

Defines, publishing and communicates the global standards within their area of specialty.

Analyses the current IT environment to identify opportunities to bring new or improved capabilities to the business within each area of responsibility.

Leads the introduction of new capabilities into the organization including technology selection, design and pilot. Works closely with Architecture, PMO and Service Delivery to introduce new services into production.

Manages the design, development and implementation of security infrastructure required to support the integration of projects and technology into the existing environment

Resolves unique and complex IT security architecture problems within area of responsibility

Collaborates with Architecture, PMO and Service Delivery functions on the delivery of IT projects and the support of security infrastructure within area of responsibility

Develops and manages relationships with key vendors within the area of responsibility
Qualifications
EDUCATION, EXPERIENCE, AND SKILLS

Required:
Bachelor's degree /(Information security, Management Information Systems (MIS), Computer Science or related IT field)and five years IT experience, or High School Diploma and seven years of IT experience

5+ Years experience with infrastructure, systems, applications or services within area of responsibility

3+ years of work experience in designing and architecture security solutions

Experience with implementing and operating security programs in a global environment
Proven ability to analyze a wide variety of data and make calculated, risk-based decisions, incorporating industry best practices and standards

Excellent communication skills with ability to explain technical concepts to lay audiences. Experience of with working with board level stakeholders.

Strong critical thinker with problem solving aptitude

Experienced cross-team leader to ensure successful delivery of solutions

Strong conceptual and analytical skills - demonstrating outside-the-box problem solving skills

Strong experience of developing Services Orientated Architectures (SOA)

Excellent knowledge of Enterprise Architecture methodologies such as TOGAF or the equivalent

Deep knowledge of technology in their domain area

Ability to write and speak in the English language
Desired:
Information security certification (CISSP, CISM, CISA, GIAC, CEH, CCSK)

Experience with IDS, IPS, Malware Detection, Firewalls

Experience with Remote Access
LICENSE / CERTIFICATIONS
Formal qualification in Enterprise Architecture (e.g. TOGAF or equivalent)
TRAVEL REQUIREMENTS
Access to transportation to attend meetings

Ability to fly to meetings regionally and globally
We are driven to improve people's lives.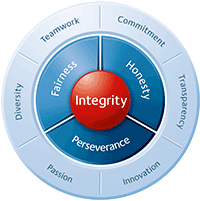 Corporate Philosophy
Our corporate philosophy, Takeda-ism, has been developed over our 230-year history. This enduring set of core value guides all our activities. We pledge to act with integrity – comprising Fairness, Honesty and Perseverance – in our day-to-day work. Along with our Vision and Values, Takeda-ism helps us create value and serve the needs of the environment, our communities, employees and patients all over the world.
Please be aware new identity theft technique targets candidates seeking positions at Takeda
Recently, identity thieves have been posing as recruiters for major companies, including Takeda, in order to steal personal information from unsuspecting job seekers. The thieves visit job/recruiting web sites and invite the candidates to an online chat posing as a Takeda HR employee (and sometimes using a real Takeda employee's name). During the chat, they press the job seekers to divulge bank account information and Social Security numbers.
Takeda experts are currently investigating and determining ways to mitigate or stop this scheme. Takeda recruiters will never ask for personal financial information in a telephone, face-to-face or online video interview. Currently the thieves seem to be working only job posting boards within the US, so if you have any concerns related to this issue, we recommend you to take the following actions:
If in the U.S., consider placing a freeze on your credit reports. Information on how to do this is located at
https://www.consumer.ftc.gov/articles/0497-credit-freeze-faqs
File a complaint with the U.S. Federal Trade Commission (FTC) at
https://www.ftccomplaintassistant.gov/
File a report with your local police department.
Share this job:
Takeda Pharmaceuticals
For more than 230 years, Takeda has been serving society with innovative medicines, helping patients reclaim valuable moments of life from illness. Now, with new healthcare solutions from prevention to care and cure, we are determined to help even more people enjoy their lives to the fullest.

Our mission is simple: we strive toward better health for patients worldwide through leading innovation in medicine.

This mission:
• Drives our research and development of prescription drugs
• Promotes our commitment to social responsibility
• Marks our growth and success

At Takeda, our passion for healthcare and commitment to improving lives will enable us to make the next 230 years healthier and brighter for people around the world. Our robust product pipeline is focused on treating serious diseases and disorders, including bone and joint disorders, cardiovascular disease, central nervous system disorders, chronic kidney disease, diabetes, gastroenterology, gynecological disorders and infectious disease.

Specialties
Pharmaceuticals, Vaccines, OTC, Oncology
Company Industry: Pharmaceuticals
Company Type: Public Company
Company Size: 10,001+